Can I create Wi-Fi hotspot with my desktop? How to turn my desktop computer into a Wi-Fi hotspot? If you google such topics, you will find so many posts about how to turn a laptop into Wi-Fi hotspot, not for a desktop. If you exactly have a desktop PC with a wired internet connection and no Wi-Fi compatibilities, you are in the exactly right place. This post is talking about how to create a free Wi-Fi hotspot on your desktop computer to share wireless internet connection with other Wi-Fi enabled devices, such as a laptop, notebook, iPhone, iPad, Android phone, etc.
Before You Use Your Desktop Computer As A Wi-Fi Hotspot
Unlike laptops (most of them have the built-in wireless adapter), only some of the desktop computers come with a wireless network adapter already installed. A network adapter is the must-have device to connect your computer to a network. Therefore, you need to check if your desktop computer has a wireless network adapter. You can do as the followings:
1. Open Device Manage. You can click the Start button, Control Panel and System and Security. Under System, click Device Manager. Or you can type Device Mange in the search box.
2. Double-click on "Network adapters" to expand it.

3. Check to see if there is a network adapter that includes "wireless" in the name.



If your desktop has a wireless adapter card, congratulations to you! You can go to the Final Part to set up a Wi-Fi hotspot and share Wi-Fi internet connection.

Have No Wireless Adapter on Your Desktop PC?




Don't be dispirited even though your desktop doesn't have a wireless adapter. Just purchase one from electronics store or online. The universal serial bus (USB) wireless card is a nice choice, because it is small, easy and portable (it can be moved around to different computers). You can easily install it by yourself – just plug it into the USB port of your desktop and install the wireless driver for it. Then you can make Wi-Fi hotspots available at home, office, airport, meeting room or anywhere you like.



How to One-click Turn A Desktop PC into A Free Wi-Fi Hotspot on Windows 10/8.1/8/7XP/Vista

After you insure a wireless network adapter or USB wireless card is installed on your desktop computer, you can now easily make a free Wi-Fi hotspot access point to share your internet connection with any other Wi-Fi enabled devices. And a professional Wi-Fi hotspot creator, like OSToto Hotspot, will do a lot of help. It can instantly start the Wi-Fi hotspot and transform your desktop into a wireless router. This utility works for all Windows OS, like Windows 10, Windows 8.1, Windows 8, Windows 7, Windows XP and Windows Vista.

Now download and install OSToto Hotspot on your desktop PC, like Dell, Asus, Acer, HP, Sony, Lenovo, Samsung, Toshiba, IBM, Alienware, Compaq, Gateway, LG, Microsoft, MSI and more.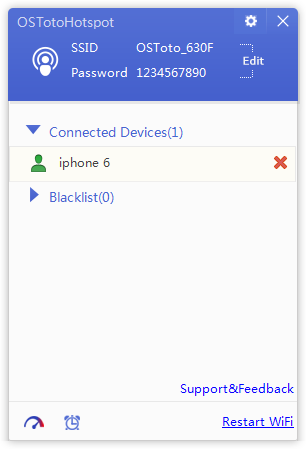 You can edit the hotspot name and password. OSToto Hotspot has the WPA2 for password protection to keep freeloaders out, but your families, friends, coworkers and anyone who have the password can join your network sharing in just one second.